Environmental grassroots NGO
Trashtag is an international social media challenge that started trending in 2019. The challenge aimed to mobilize individuals on the negative impact of litter on the environment by taking a snapshot of the litter around them in recreational areas and then taking an after shot of them having cleaned up the litter and tagging it #trashtag. 
Reddit users first decided to bring the challenge to Kuwait on April 25th, 2019 at their first cleanup in Sulaibikhat. After receiving so much support from the community, volunteers decided to do another cleanup the following weekend, only this time twice the amount of volunteers attended and #TrashtagKuwait started to trend. From then on #TrashtagKuwait became more than just a challenge or a hashtag, it grew rapidly into an environmental grassroots initiative run fully by our volunteers that have since launched several environmental awareness campaigns and projects to help better the environment and community by transitioning towards a more environmentally conscious and sustainable country.
Help us build a new world
Leading by example - Weekly Cleanups
Since our first cleanup April 25, 2019, Trashtag Kuwait has organized cleanups every weekend, sometimes twice a week, always of public invitation. Our digital volunteer groups consist of 400+ volunteers and our social media platform is supported by more than 7,000 community members. With the help of our amazing volunteers we have been able to collect 2,630 bags of debris from the beaches, deserts, parks and islands of Kuwait. 
Trashtag Kuwait has visited sites all throughout Kuwait. Of which include; Kubbar Island, Subbiya, Jahra Reserve, North and South of Jahra Reserve, various points of Sulaibikhat and Doha beach, Messila, Mangaf, Mahboula, Fintas, Abo Hassaniya, Shaab, Bneid Al Qar, Salmiya, Belajat, Anjefa, Green Island, Abdali, Salmiya Park, Shuwaikh Free Zone, Sabah Hospital beach, and more.
Not included in our bag count are the several hundred tons of obstructing materials such as industrial waste that is collected by vigorous teamwork and manpower that is ultimately too large to be bagged.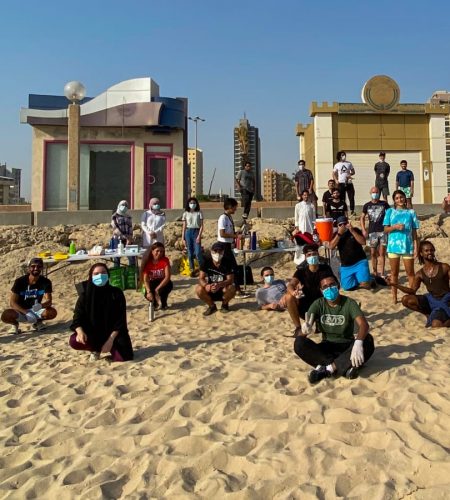 Raising Awareness - Social Media Campaigns
Kuwait is plagued by a host of environmental stressors and is at the forefront of countries most experiencing the results of climate change. In an effort to create an intersectional conversation towards the environment, Trashtag Kuwait proudly provides research from the scientific community and communicates it into soluble informative
campaigns structured to start discussions and find solutions to a more sustainable coexistence. 
Some of our campaigns include raising awareness on; 
Marine litter, ghost gear, carbon footprint of water bottles, overfishing of local and regional fish stocks, toxic algae blooms in the Kuwait Bay, high ocean water salinity, reusing and reducing, Eid Al Watani festivity pollution, desert pollution in Kuwait, plastic consumption during the pandemic, the rapid deaths of large marine life such as stingrays, turtles and scatophagus in the summer of 2020.
Focusing on education - Integrating Youth Initiatives
Trashtag Kuwait has organized and collaborated on multiple student awareness programs for children at Loyac, including the KON program. We have also organized educational clean ups for kindergarten and elementary schools such as UAS as well as implementing community service programs for students at Kuwait University and UNESCO schools.  
Giving Back - Community Outreach
One of our most unique and cherished qualities of our community is diversity. The ability to evoke passion and support environmental consciousness throughout various communities. Without our community none of our efforts would ever be possible. Which is why in response to the pandemic and the circumstances so many low income earning communities found themselves in, Trashtag Kuwait mobilized our network of volunteers into various fields to provide aid to those suffering in need. 
In June 22nd Trashtag Kuwait launched #ProjectCommunity. The initiative spearheaded operational hotlines, organized the distribution of aid throughout impoverished and lockdown areas as well as assisted in coordination and fundraising. By the end of August, Trashtag Kuwait was able to provide direct aid such as groceries, diapers, baby formula, and medicine to over 400 families, with the help of donors and eco friendly community business leaders from Altr Wear, Ecofits, Eco8, Maya Eco, Leap Loves Green and many more.
On July 23rd Trashtag Kuwait organized the Eid Toy Drive that raised awareness on the benefits of donating and offering second hand clothing and items such as toys. This allowed space for a conscious discussion that tackled consumerism and the positive environmental impacts of clothing/toy drives. Through this initiative Trashtag Kuwait was able to provide toys and clothing to 287 migrant and bedoon children as well as donate several bundles of gifts to the local women's shelter run by Bibi Al Sabah and Sandigan Organization.
On August 27th, Trashtag Kuwait in partnership with Engie Solutions launched the much anticipated #ProjectMyMai campaign dedicated to making safe and clean drinking water accessible for low income earning communities. Unfortunately while Kuwait's tap water quality is perfectly safe, often is the case that pipes in individual buildings may not be maintained or the water tanks are infrequently cleaned thus resulting in contaminated water. By providing high quality British water filters Trashtag Kuwait is making potable water accessible to struggling communities as well as counteracting the reliance on plastic water bottles. The team aims to be able to help a minimum of 500 families with this initiative. 
While Trashtag Kuwait started only a year ago as a weekly beach cleanup group, it is with great passion and teamwork that they have been able to mobilize the community into a dedicated and driven grassroots initiative that aims to tackle pollution not just by on the ground direct work, but also systematically through raising awareness, campaigning, and collaborating with like minded supporters to be able to accomplish real change for the environment and those we cohabitate with.
Our total bag count is 2,854 bags!